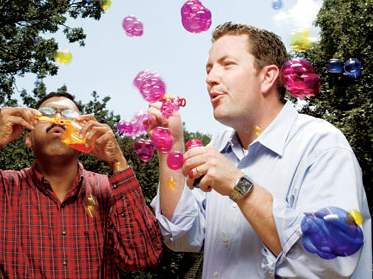 Bubbles Is Back In Town

The Eviscerated Gaming Podcast - Episode #20
"Wife Soup"
R9z, Nic, & Cold, proudly present
Episode #20 of The Eviscerated Gaming Podcast
. We're back with another episode of crazy news stories, music, WoW, gaming, and we have some fun at Nic's expense. For Episode #20 it is just Rez and I, as Nic was unavailable this episode. You'll have to listen to the episode to find out what special visitor was in town keeping him disctracted. :]
Episode #20 Show Notes, Discussion Topics, & Links
Self Portraits On A Drug Binge - This artist is crazy! Take a new drug or drug combo every day and draw a self portrait while under the effects of each. Do this 30+ days in a row and you'll see a ton of crazy drug inspired artwork. Can you relate to some of these images?
New Use For Chef Skills - The discussion that spawned this week's episode title. Kill your wife and want to hide her body, while using your chef skills? Turn her into soup stock like this chef.
Magic 2013 Duel of the Planeswalkers for iPad - If you also have this gaming application for your iPad, be sure to add me as a Gamecenter friend - my username is Cold0911.
Mists of Pandaria initial thoughts and reactions.
Resident Evil 6 Release - Resident Evil 6 came out today (Oct 2nd) for PC, Xbox360, and PS3.
Mists of Pandaria Limited Edition Guide w Chopsticks! - The Brady Games Official MoP Guides are now out and the Limited Edition version includes MoP black and green Chopsticks! Anyone who wants the guide, but doesn't want the chopsticks should contact me, as I am willing to buy the unopened chopsticks off of you.
The New Blog Schedule At Cold's Gold Factory - Part of the new schedule includes my new Gifts For Gamers Weekly column, which is going good so far.
Cthulhu Fluxx - Finally got an opponent to play against. This is another great version in the Fluxx Line of Tabletop card games. This one is crazy though, as some games there will be no winner, if you allow the Great Old Gods to destroy everyone and win the game for themselves.
October Blogging Carnival Topic - We will be looking into MoP first week or so strategies and how well they turned out. You are welcome to share your own first week experience even if you aren't a blogger. Just submit to me a guest post or email and I will host it at Goldgrubs.com and include your entry into the CGF blogging carnival.
Eviscerated Mobile Gaming Minute by Barbwire
Nonmails Nutz by Nonmail - Nonmail brings us the original unreleased soundtrack for Mists of Pandaria.
Electronic Education by Cold - This week on Electronic Education, I feature some whacky funky bassline tracks with remixes by A-Trak, Reepr, and an original track by John Dahlbach.
Episode 20 of The Eviscerated Gaming Podcast is available on iTunes, Stitcher Radio, and from the embedded feed at
Eviscerated.net
.
Check out Episode #20 - "Wife Soup" now.
************